Everything New In Home Assistant 2022.8
Home Assistant 2022.8 brings big improvements to Bluetooth, a new feature called Repairs, HomeKit upgrades and other quality of life improvements.
Home Assistant 2022.8 is here - with lots of new features and improvements, including some HomeKit upgrades, a new integration called Repairs, quality of live improvements and a major and much needed update to a protocol that's been left out in the cold for a little too long - Bluetooth!
Video
Bluetooth Upgrades
Bluetooth is now a new, native, first class citizen in Home Assistant with a brand new integration specifically for Bluetooth!
If we back up a little bit, previously we've had integrations that use Bluetooth such as SwitchBot or Mi Flora, but those integrations were dependant on different Bluetooth libraries and some of them were even deprecated in the previous update because the libraries were no longer being maintained.
With this release we see Bluetooth become it's own dedicated integration, which other integrations - like SwitchBot - will then use to communicate.
The upshot of this is a much better overall Bluetooth experience for Home Assistant, which I would say has traditionally been it's weakest area out of Zigbee, Z-Wave, Wi-Fi and Bluetooth - now the new Bluetooth integration supports automatic discovery of supported Bluetooth devices and can push device updates to other integrations that use those Bluetooth devices.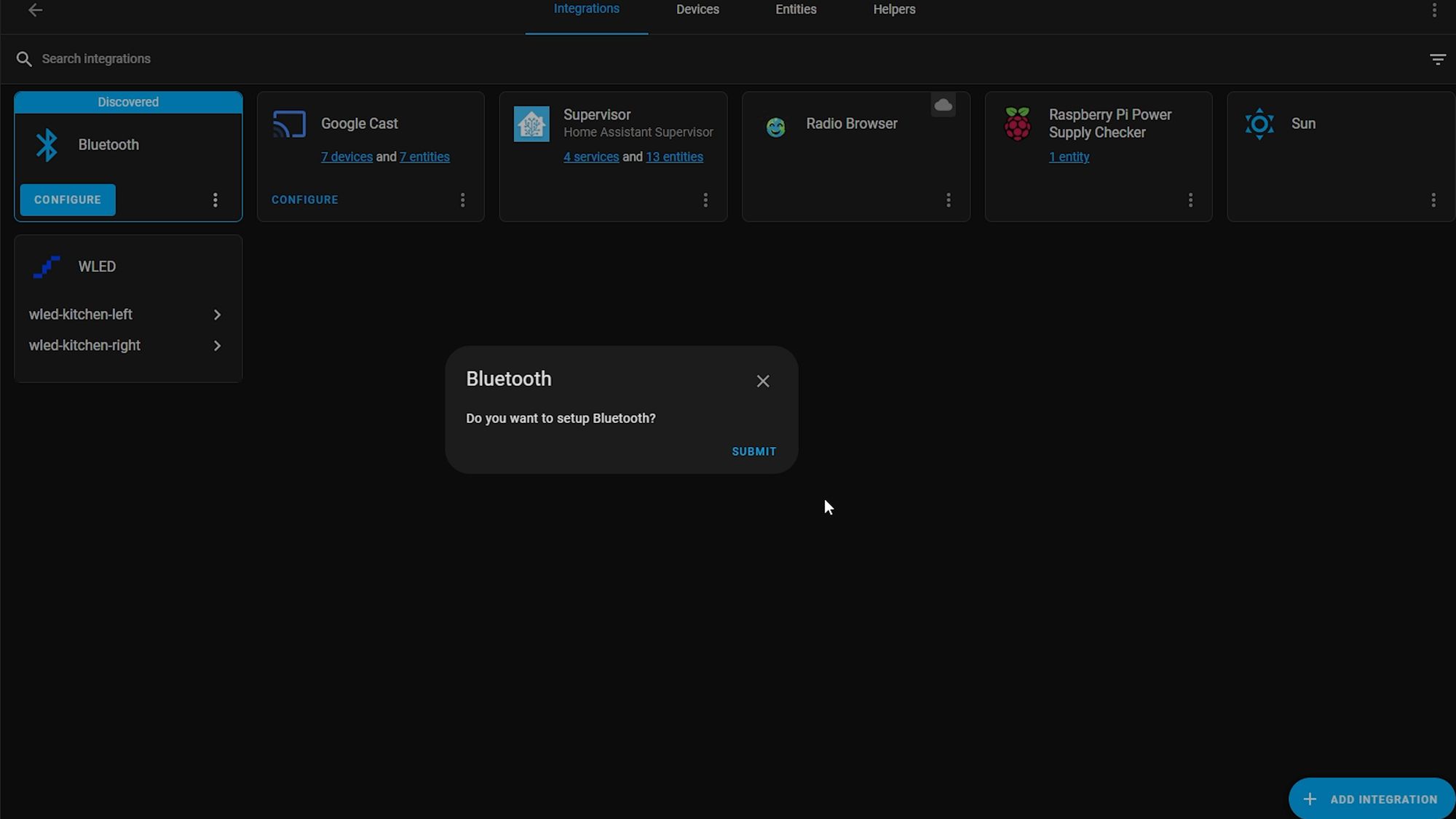 Even if we just take the SwitchBot integration - SwitchBot who has quite a lot of Bluetooth devices - we see a noticeably better and more reliable experience going from 2022.7 to 2022.8.
Firstly, the SwitchBot integration itself now supports the SwitchBot Temperature and Humidity meter as well as the SwitchBot Motion sensor as new devices, alongside the curtain and bot which were already supported. From my experience so far, reliability of the integration is much better now and results in much less dropped connections.
It's worth mentioning that this doesn't immediately mean that all Bluetooth devices are suddenly working perfectly and anything Bluetooth can connect to Home Assistant now - integrations do still need to be updated to take advantage of the new Bluetooth integration. Only a handful have been updated so far, but this does provide a solid base for them to start building from and so hopefully over the coming months we are going to see even more devices supported - really good stuff and looking forward to seeing how this is expanded on!
HomeKit over Bluetooth
The HomeKit Controller integration has seen an update with regards to Bluetooth too!
HomeKit controller now supports adding Bluetooth capable HomeKit devices - these would generally be battery operated devices that don't use Wi-Fi, such as this Eve motion sensor or Eve Weather sensor.
Not many people seem to know this, but HomeKit is a great integration that provides local control of devices, and provides a way for devices to connect that may not have a native Home Assistant integration - you don't need any Apple devices to use the HomeKit integration and it's super reliable, fast and works very well!
Glad to see HomeKit receive Bluetooth support too!
Repairs
Another new feature in 2022.8 is called Repairs.
This is a new page which shows up in the Systems menu inside of Settings.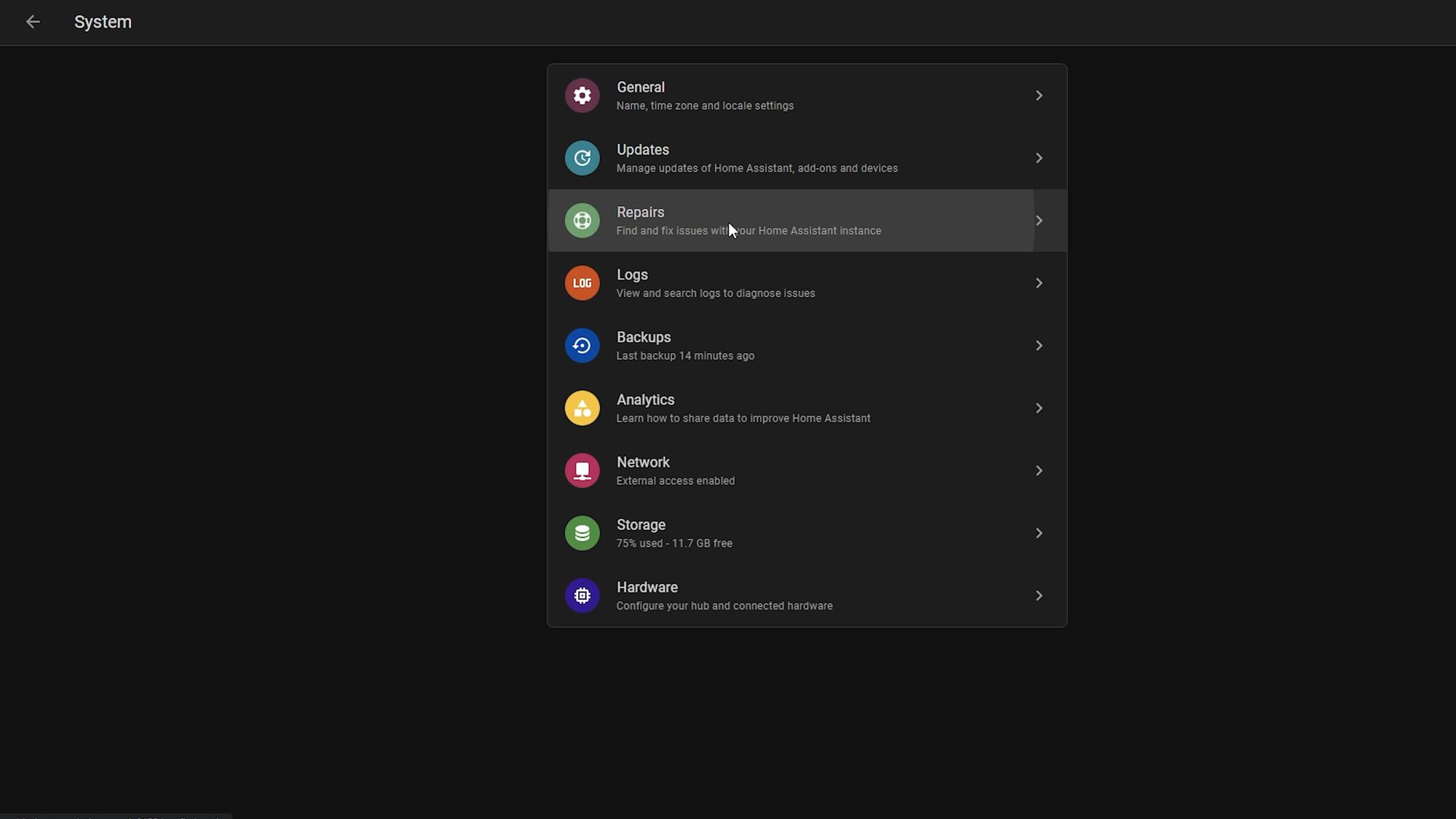 Repairs will essentially find any potential issues or problems in your Home Assistant, and will let you know what the fix for those problems are.
It could be a problem with an integration you have installed, or perhaps your running something that is going to be deprecated in a future release then that should show up under Repairs.
For example, this is letting me know about a problem with the Spotify Integration: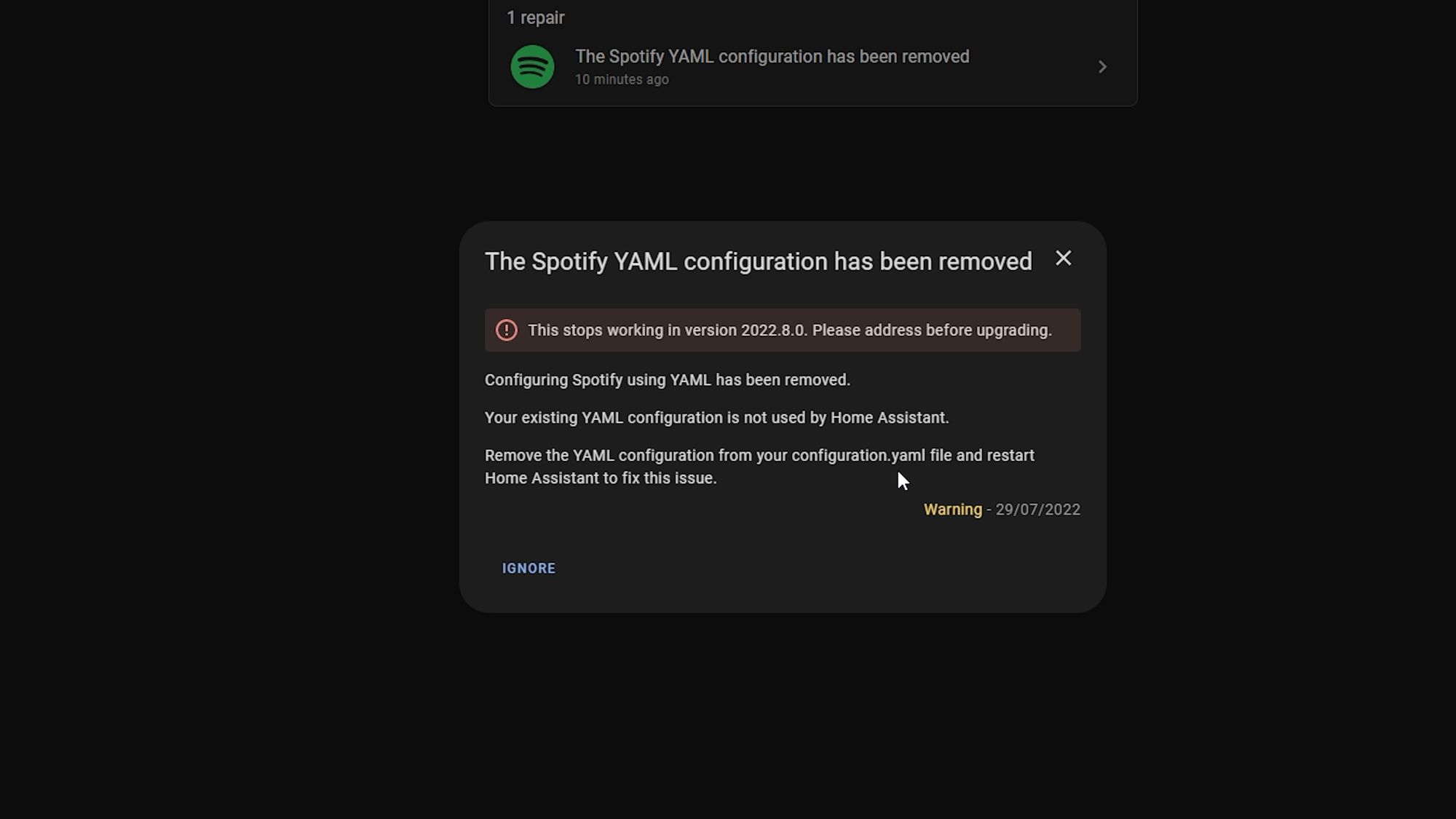 One thing that would be really good to see with this (maybe it already does this) - it would be pretty cool if this could give you an "upgrade assistant" where it would tell you if your current configuration is compatible with the new version including all breaking changes, so you can check before upgrading.
For example, if I'm using the Panasonic integration and its setup in configuration.yaml, then in the next version it gets moved into the UI, it would be good if repairs could say "hey you know that Panasonic integration, well after you update, you need to change over to using the UI instead of YAML" - this give you an early warning before upgrading.
Like I say, maybe this is already how it will work, I guess we will see next month with the 2022.9 update!
Device and Entity Naming Standardisation
Have you ever added a new device to Home Assistant, and you end up with really weird device names that have a bunch of what are seemingly meaningless characters in the name?
Now, 2022.8 aims to improve on the naming of entities and devices to make them more standard and consistent, making it easier to decipher:
Integrations do need to be updated to follow suit so will take some time over the coming months for that to completed, but roughly 100 integrations have already been done as part of this project including some of the more popular ones like ZHA, Sonos, Google Cast and Calendar, WLED and many others - great to see!
Finding Integrations Is Easier
Integrations have also been made easier to find when searching for them in the Devices and Service page.
Some integrations support multiple different brands, either because they are similar or they actually are the same product that has been rebranded - so now when you search for an integration, you should now see a more accurate list of compatible integrations for the thing you are searching for:
The Little Things!
Time for some of the more minor but excellent additions - firstly, the Unifi integration has been updated so that it can now display firmware updates for your Unifi devices right inside of Home Assistant, allowing you to skip or apply updates for those Unifi devices:
The colours of the maps page has been adjusted to make them more viewable and help with accessibility - especially when viewing in dark mode:
You can also view network information for Home Assistant from a new menu in Settings > System > Network > Network Information: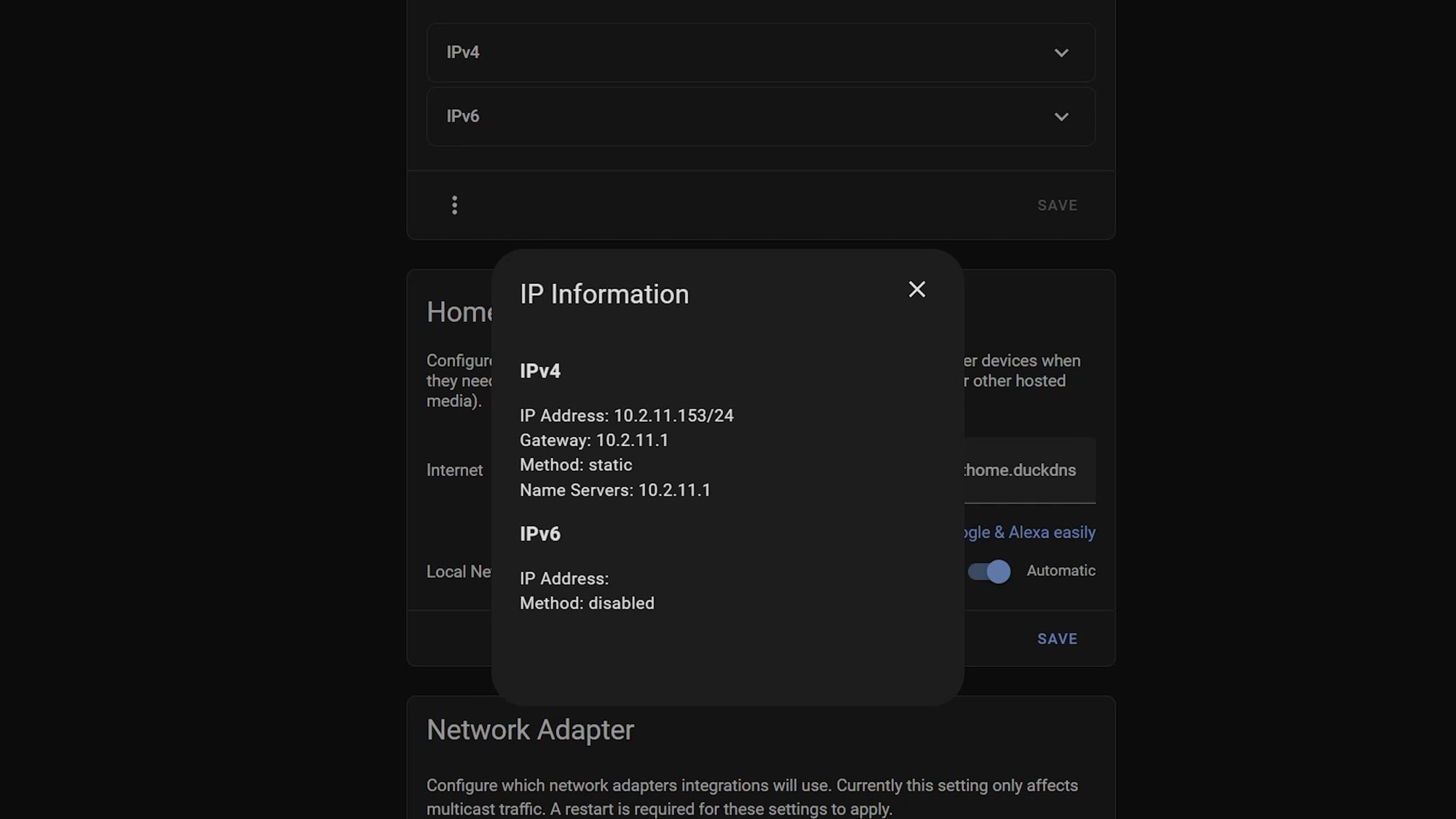 New Integrations:
There have also been 10 new integrations added this month, most of those are new integrations to take advantage of Bluetooth:
There have also been 2 new integrations available to setup in the UI instead of configuration files:
Breaking Changes
As always makes sure to check out the breaking changes section first before updating.
This month we have a surprisingly small amount of breaking changes which is welcome - I don't see anything major at all this month, other than for those of you using the SwitchBot integration, you need to make sure and configure the Bluetooth integration first, which does actually get auto discovered on startup, before you can continue using the SwitchBot integration.
But other than that, a really small amount of breaking changes this month!