Everything New In Home Assistant 2022.6
Home Assistant 2022.6 is here - with performance improvements, Logbook changes, Energy comparisons, OAuth management and more!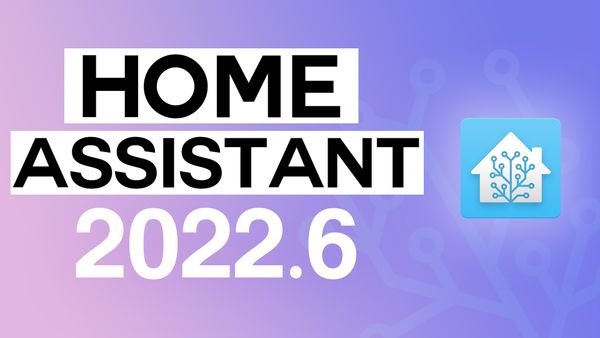 Another month and another Home Assistant update is here: the June 2022.6 update! I guess this marks the halfway point for new releases this year seeing as we're now in June - how fast has this year went?!
This month is more of an incremental release compared to some previous versions, but, as always, there are some welcome new improvements and additions, so let's get into the first one!
Video
Logbook Improvements
The Logbook is a place to see the history of your devices and sensors; what time they turned on and turned off, or what their value was at a given time but this month sees a few improvements.
Firstly, the Logbook and History page is now significantly faster than it was in previous releases - sometimes with larger installs they could take quite a while to load depending on how much history there was - but now they are super fast to load - excellent!
Secondly, they have also been added to more locations. So, now when you go into an integration and select a device, the Logbook will be shown on the device page, and now updates in real-time as the device and entities change which is useful for debugging and gives you more visibility into what's going on!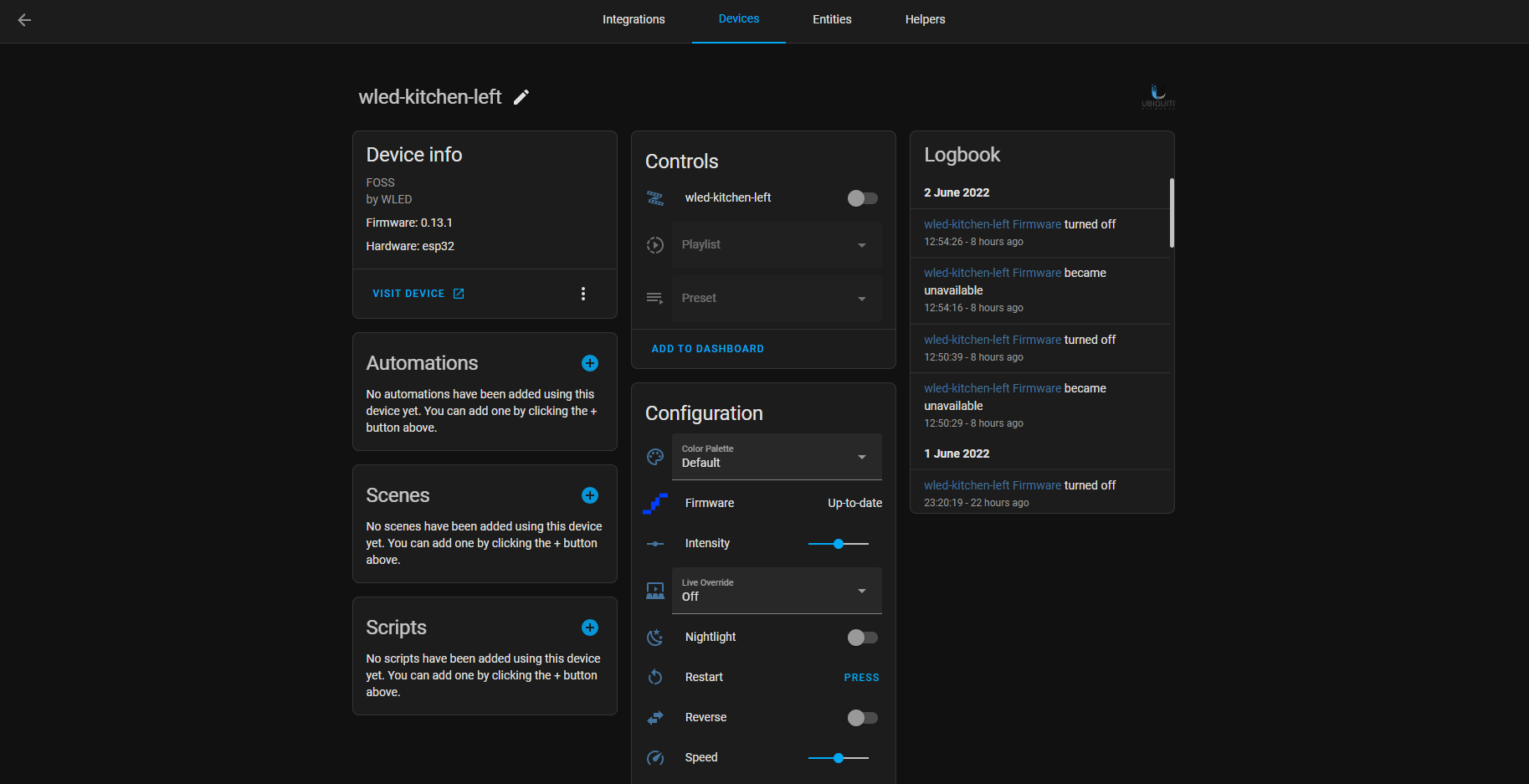 Another cool addition is that supported entities will now show event data in the Logbook too. For example, button presses of remotes or other devices - if the integration supports it.
Finally, Logbook data can now be viewed live and will update in real-time, instead of constantly having to update the date range - the Logbook cards added to your dashboard can now update in real-time too: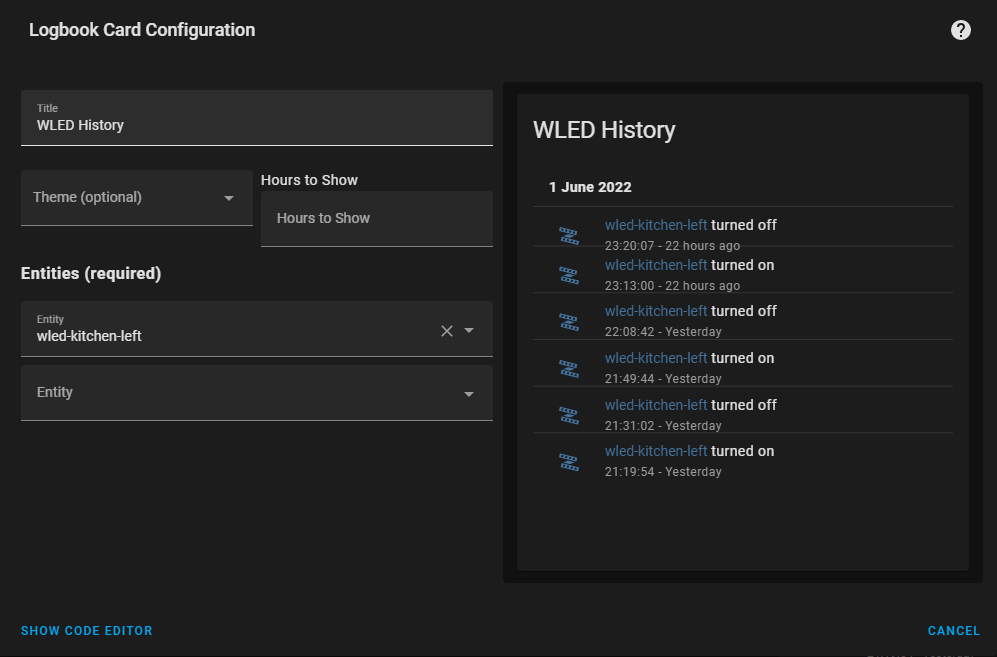 Energy Dashboard Changes
Speaking of date and time ranges, if you use the amazing Energy Dashboard in Home Assistant, you can now compare data against the previous time period. So, if you are viewing your energy consumption for that month, you can now hit the compare data button and it will show you comparison data for the previous month so you can make sure you are on the right track!
Calendar Trigger Additions
Next, some of you may remember that in last months release, we got the new Calendar Trigger, which would essentially allow you to start an automation from a calendar event. So, for example, you could set it up to change your office lighting when a Zoom meeting starts.
Well, this month this has been expanded so you can now offset the time on that Calendar Trigger.
Using the same example as above, that could allow you to turn on your meeting studio lights, set your meeting indicator, enable your microphone and camera 5 minutes before your meeting actually starts.
Or it could be used as an easy way of sending text to speech notifications to let you know when to leave your house to make it on time to an appointment.
OAuth Integration Changes
Application credentials for OAuth integrations are also now much easier to manage.
Now, this might not be something you are familiar with but essentially OAuth is an authentication method that is used with many integrations to authenticate with a third party service, like Spotify or Xbox.
The upshot of this new update is that OAuth credentials are now much easier to manage with a new tab in the UI that helps you to keep on top of everything - meaning no more YAML to edit!
This new menu to manage credentials is located under Settings > Devices and Services > 3 dots (top right hand corner) > Application Credentials.
When you set up a new integration that uses OAuth, you will also be guided through the setup which is an improvement compared to before. All your application credentials will now show up in here giving you quick visibility into all of the credentials you have set up!
Database Improvements
The Scene Editor is another one that sees an improvement here since you can now select individual entities to include in a scene rather than devices as a whole which may have multiple entities, so now you can select just one!
Once again, we see even more performance improvements to the Database which offers not only disk write reductions which should help preserve SD Card lifetimes, but we should also see a size reduction in the database too, with around 25-40% reduction quoted!
@bdraco has been on a serious database kick recently it seems since this is the third database improvement we've seen in a row, which of course we love to see!
All The Little Things
As always there are a bunch of minor additions to this release which you can read over in the full release notes.
Some notable updates are that GStreamer and VLC media player have now been added to the media browser.
The "Preload Camera" setting that used to be shown on every camera feed has now been moved to the device settings.
Tasmota now supports the tilting of covers in Home Assistant
Last but not least, there are also 100 new material design icons been added too!
New Integrations
There have also been 7 new integrations to this release too:
Also, there are 3 new integrations moved over from YAML into the UI:
P.s - Being from the UK, I had to Google what Big Ass Fans was...it's not what I expected! (Don't worry its safe!)
Breaking Changes
Finally, as always, please make sure to check out the breaking changes section for anything you need to be aware of before hitting update.
Standout ones to be aware of here are that the Raspberry Pi GPIO integration has now been removed from this release after it was deprecated 3 months ago. There are community integrations that have been available for quite a while so make sure to resolve that before updating.  
Also, MQTT sees some change this month. Now, don't worry this is just being marked as deprecated in this release and won't be enforced until 2022.9 so 3 months away.
Having said that, if you have manually configured MQTT entries in your configuration, then you may need to change them over to the new format.
There is an example provided in the release notes for what you need to do. Again, this isn't going to break anything today, but something you may need to look into over the coming weeks if you use MQTT.
Final Words
And that is it for this release! Short and sweet this time with some more incremental updates, but still a nice little improvement and quality of life updates.
If you have any questions or queries regarding this update, please don't hesitate to ask!